Welcome to our site!
13.03.2012
Attention! Before even playing Galanta, we go to a club in Hungary, precisely at the Sárvár Nadasdy-Castle Cellar Club. This is a new experience for our band, because we play for the first time in Hungary! Watch concerts in the menu, because change at any time! Have a nice day everyone!
26.02.2012
Hi! Next gig will be in Galanta, in Arkadia club. Plays a Wasted Future, the Gilotin and the Rock-Stone band. Everyone is welcome! The only thing we would do is add to the evening, long live the ROCK! Come to everyone who can make! -WF-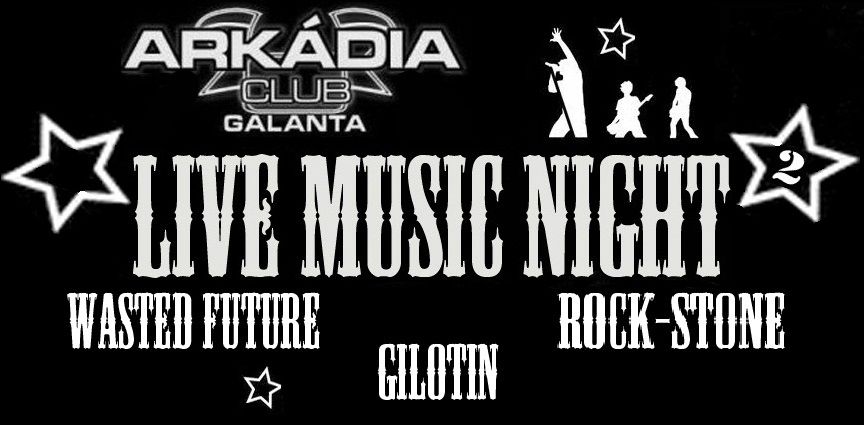 19.02.2012
Thanks for last nights party. Started as a small party is the night, but we felt very well and we thank those who came, organizers, and the technicians who helped. We hope you met some fun and we hope we meet again! -WF-
14.02.2012
Do not forget it on a weekend we meet in Vága, in the Marakana club. Come onto our this years first appearance and have a party with us!
27.01.2012
Soon, we play at the Maracana club in Váhovce, it is a long time ago that we were not on stage, but who can come in and see us. Hey. WF
20.01.2012
Our band has not been shown for a long time, but we do not forget you, because there are still active in band, just a short time retired. We are regularly practicing and will be a few surprises. We are working on own tracks and we are looking for a new guitarist, who can replace Sovik Peter. But our motto: "Never give up!" WF
01.01.2012
Happy New Year for everyone! Wasted Future
---